"Luxurious Spanish"
Thrillist
"Exhilarating Language Odyssey"
Sky Delta Magazine
"Stellar teachers, VIP field trips,
and Michelin-starred restaurants"
Private Clubs Magazine
"Best Spanish Immersion"
Luxe Gateways
"Coolest way to learn
a language"
Conde Nast Traveler
"Unrivaled in
Language Learning"
Forbes
"Master Spanish in
Mexico"
Los Angeles Times
Learn
Spanish
in Oaxaca
Spanish in Oaxaca
A week-long language and cultural immersion in Mexico's most beautiful town. The most rigorous and caring Spanish program anywhere in a beautiful colonial-era mansion.
The Soul of Mexico
Oaxaca's top chefs and hidden restaurants, mezcal makers, and artisans, and art curators brought together for a unique week-long experience.
The Magic of Oaxaca
A small, walkable city with hundreds of 16th and 17th century buildings nestled in a millenarian valley. Oaxaca is an ideal setting for a Spanish Immersion.
THE SOUL OF OAXACA
One of the city's most enchanting boutique hotels, an unforgettable dinner by the region's most interesting chef, a journey through the textiles, mezcals, and ceramics of the city, and the best Spanish instructors in the world.
Amazing Spanish in Oaxaca
A week-long Spanish Immersion with the most accomplished and caring coaches anywhere. Expert assessment ahead of the trip, one-on-one sessions, recovery time, and an unforgettable journey through the best Oaxacan food.
THRILLING EVENING PROGRAMMING IN OAXACA
We'll host unforgettable meals at some of Oaxaca's foodie meccas, will bring the best Mezcal masters to show us their secrets, and will visit the city no tourist ever sees. A quality experience unmatched by any other Spanish program.
SPEAK SPANISH LIKE NEVER BEFORE
The widely recognized Fluenz Global Spanish program for English-speakers, our flair for boutique hospitality, and the magic of Oaxaca add up to a transformational experience you won't soon forget.
Foodie
& Mezcal
Experience
In Oaxaca, food and mezcal are languages in themselves, which is why the Spanish Immersion also offers a journey through these unique forms of artistic expression. At Jorge León's Alfonsina, we'll be treated to a unique reimagining of Oaxacan cuisine that uses the region's seasonal ingredients to create a new culinary language beyond the confines of traditional cooking.
We'll visit the city's most promising young chef for a private event at his home, while the maestro mezcalero at Convite, the city's insider brand, will take us through his magic during an exclusive tour.
All levels
of Spanish
Spanish for You
Every person has a different level of Spanish, and a different way of learning. We talk to every participant before they come to Oaxaca in order to create their very own path to fluency.
The Magic of Coaching
Our one-on-one and small group sessions are led by an amazing team of coaches. They will lead you through the Spanish-learning journey with intelligence, patience, and enthusiasm.
Personalized Program
Not only will your personal program be ready by the time you arrive in Oaxaca. We'll watch over your progress and make daily adjustments to assure the best possible path to fluency.
Follow up After Oaxaca
Spanish is a lifelong quest, which is why we have an incredibly user-friendly learning App for the time before you arrive, and one-on-one, live video-coaching, to continue after you leave.
LEARN SPANISH IN OAXACA
Blending history and modern comfort in Oaxaca, our lodging includes six night's accommodation in beautiful private suites with AC and plenty of amenities. Upgrades to Junior and Master Suites available with a supplement.
The Oaxaca Immersion includes six breakfasts and five lunches that explore Mexican and Oaxacan cuisine (Vegetarian, Vegan, Gluten-free, and Pescatarian options available).
A special gourmet experience at the acclaimed Alfonsina.
A private driver takes care of all airport transfers.
Oaxaca
Spanish
Immersion
Fees
The Fluenz Spanish program in Oaxaca has a fee of $6,535 for double occupancy (each participant) and $6,920 for single occupancy in a Suite.
What's included in your fee:
All coaching, learning supervision, and materials during the entire week.
All airport transfers by a private driver.
Six breakfasts and five lunches by a private chef with vegan, vegetarian, lactose and gluten-free, as well as pescatarian options available.
A special dinner at Alfonsina, up-and-comer Jorge León's flagship restaurant.
Six night's accommodation at a Suite-level room in a boutique hotel.
Exclusive visits to artisan workshops, mezcal palenques, architectural and archeological landmarks, or artist studios.
Informal Spanish practice at Immersion events.
Access to our acclaimed luxury concierge services to help you secure reservations and make plans before, during, and after your stay.
Life-time license to access our comprehensive Fluenz Spanish App set ($398 value).
Thorough Spanish assessment before arrival, and creation of a personalized Spanish program.
Non-participating companions/spouses are welcome for a Supplement.
-- Master Suite (for six nights) upgrades are available with a supplement.
-- Please note that standard double occupancy in Oaxaca includes a Queen bed. To reserve one of the few available double rooms requires an extra fee.
MAKE YOUR Oaxaca RESERVATIONS
Jan 28 - Feb 03
01/28/2323
CLICK HERE TO SEE ALL AVAILABILITY
Amazing Spanish Coaches
Our coaches are not only passionate about the Spanish language, but also for their extraordinarily creative lives. Their graduate degrees in the humanities and the arts, long-standing careers in higher education, theater directing, poetry writing, philosophy, and publishing, make them amazing teachers and a great group to spend a week with. All have been thoroughly trained in the Fluenz Comparative Linguistic Models, and have had considerable experience teaching at our locations throughout the world.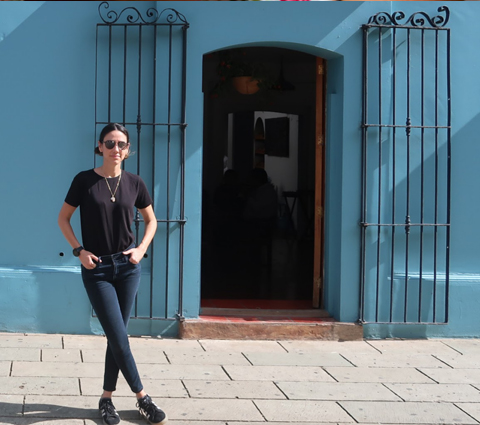 Oaxaca's Soul
Two ancestral civilizations created an extraordinary cultural legacy that continues to this day. Beyond the fascinating archeological sites, Mixtec and Zapotec society and language are very much alive. This gives Oaxaca a unique character that is reflected in every street corner, every kitchen, and every conversation.
The latter contributions made by religious orders that turned the city into a center of learning at renaissance convents that still stand, make for an extraordinary history that is never exhausted. To think that the city's favorite son, President Benito Juarez, grew up speaking Zapoteca and didn't learn Spanish, Latin, or ancient Greek until he reached school.
For a few decades now Oaxaqueños have been busy recuperating their archeological and architectural gems, their recipes, extraordinary crafts, mezcals, and the contagious spirit of this vibrant city. Oaxaca is a place everyone should visit at least once, and one no one ever forgets.
FLUENZ SPANISH APP SET
Our integrated Apps to learn Spanish on your computer, your phone, and your iPad, have been widely praised for their effectiveness. Hundreds of video tutorials by Sonia Gil walk users through Spanish every step of the way. Then, a battery of workouts that have been designed in conjunction with every video tutorial, help learners internalize the material.
This digital platform is the most comprehensive Spanish program for phones, computers, and iPads, and will prove invaluable ahead of the Immersion in Oaxaca.
The retail value of Fluenz Spanish 1+2+3+4+5 is US $378, and is included with the Immersion fees.
Fluenz,
over a
decade
of results
Founder Sonia Gil started Fluenz in 2007. Throughout all these years, she has focused on finding the answer to a single question: how can we best learn languages as English-speaking adults. Back then she created the first Fluenz digital programs, which have been updated year after year as the methodology was tested, and some approaches proved better than others.
This life-long commitment to finding solutions to how adults can best learn Spanish led to the launch of Spanish Immersions in several cities of Latin America and Spain, starting with Antigua, Guatemala, in 2017.
The company quickly established itself as a leader in the field as the Immersions were recognized by their quality, and effectiveness.
The Oaxaca Spanish Immersion continues this proud legacy in Mexico's most enchanting city, and the most amazing confluence of food, archeology, and colonial architecture in Central and North America.
MAKE YOUR SPANISH IMMERSION RESERVATION